Chapter 6: Details
January 26 at 10:30 PM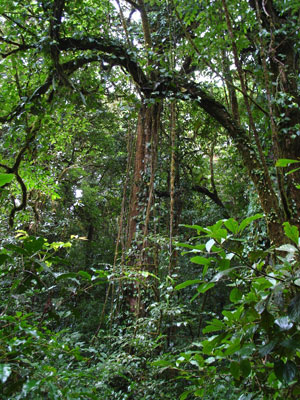 Photo by Mess of Pottage (Flickr.com)
"Well, R. Ginas," I read off the side of her jacket. "We'd better get going."
"That's not my real name." She combed her fingers through her long, dark hair.
"No names." I stepped closer. "Besides, I like Regina. Fits you real nice."
"It's Tatianna. But you can call me Tania."
"Nice to meet you, Regina. I'm Delta One." I snatched the AK-47 from her hands.
"Hey, what are you doing?" Her accent was thick and agitated.
"It's for your safety and mine. And there's one more thing." I slapped a plastic tie wrap on her wrists and zipped it shut before she could pull away. "Now let's go."
Her eyes were daggers. "I know how to handle a gun."
"That's not the problem, sweetness."
"Then what is the problem, Delta One? You might need my help."
"Trust me, I've got all the help I need right now. Now keep your voice down."
I led her through the jungle close and tender because I like to be a gentleman with the ladies. It was a series of sharp turns through dense foliage. The kind that thread you in circles if you're not careful. The kind that can get you killed.
Voice and static blasted in my ear. "Delta One, what's the hold up?"
"On my way," I whispered.
I took a few steps, but Regina did not move. "If I wanted foreplay I would have asked for it." She tossed the tie wrap aside.
I checked my belt. Wait a minute. How did she do that? Then it dawned on me. The knife. The bamboo tree. Of course.
"Details, Delta One." She handed me the knife.
"Right." I tried to hide my grin.