Chapter 7: Shadow
February 3 at 4:45 PM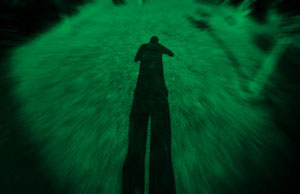 Photo by Sam Mugraby (Photos8.com)
The rest of way was far too quiet and that bothered me. Finally I'd had enough. Enough of the small talk. "Where's the access point?"
Regina turned and glared. "I don't know. It should be here." She fumbled through the brush, and then pointed to a large rock. But there were dozens of large rocks protruding from the jungle floor. In her haste to ditch her captor, she must have gotten turned around. She was lost, confused.
"You aren't any use to me unless you can lead me to an entry point."
"So what happened to the rescue mission?" Her eyes locked with mine. Those familiar daggers.
I eased the rifle from my shoulder. "It won't matter unless I can convince my people to keep you alive." But that was only half true. Even if she had information she was expendable, no question. The only way she could get out of here alive was if she proved her worth in combat. And joined us.
The longer we stood there the longer I picked up on a peculiar energy, staring out from the jungle. I peered at the winding bush and emerald trees, trying not to move my head. Something in my subconscious gnawed at me. Then I heard him nearby, cleverly pressing closer.
"I'm sorry."
"For what?" She looked at the rifle, then at me.
"This." I took her mouth in mine. She tried to peel me off, backing away and striking me with her hands. I played the part and took her to the ground. I was rough, perverse.
"No," she cried.
As we struggled, the rifle fell on the ground next to us. "Just play along," I whispered. "Quick, kick me in the stomach."
"How's this?" She pushed me back and walloped me in the nose with the heel of her boot. Before I could wipe the blood from my nose, she scooped up the rifle and hightailed it into the jungle.
For a moment, I had to admit, I was stunned. Quietly I thanked her for the brief Jiu-Jitsu lesson and deposited my egg. I ran down Regina from behind and tackled her as the charge detonated.
It was snap, crackle, and pop. A low-grade fireworks display. But it smelled far worse and left one hell of a mess. Hopefully I didn't make too much noise.
I put my finger to my lips and slowly rose. Retraced my steps. Waited a moment, and then continued on. Then waited again. A severed forearm littered the path. Immediately I recognized the tattoos. It was unmistakable.
Hangman.
As I surveyed the carnage, Regina joined me. She pointed the gun, breathing heavily.
"Here, you might need this." I handed over the rifle cartridge.
Details.