Chapter 10: Parched
October 24 at 10:00 AM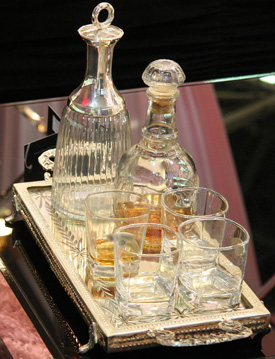 Photo by Sam Mugraby (Photos8.com)
Alone again, just how I liked it. The hotel, however, had other ideas.
I passed through a pair of French doors and into a large room filled with rows of Stairmasters and universal weight machines. A red ribbon of carpet snaked around a group of treadmills and over to a steamed bath that continuously gushed and frothed over. The atmosphere was warm, inviting. I half expected to find Keeley pedaling off those extra pounds on one of the stationary bikes, but there was no sign of him.
No sign of anyone in this perfectly manicured estate.
I rubbed the nape of my neck. What I really needed was a drink.
"Scotch, isn't it?" A short man in a gas mask and full body suit emerged from the glass doors at the other end of the room. He raised his tray and adjusted his pearl bowtie before wobbling over in his knee-high boots. "Compliments of the master," he offered.
There was a pair of rocks glasses, an unopened bottle of Malt Whisky and a shiny golden bucket with real ice cubes.
"What have you got there?" I considered the bottle. For a moment my prayers were answered. I ignored the glasses and went straight for the bottle. I gulped down fire, as much as my greedy mouth could swallow. It was delicious, arousing. "It's been awhile." I wiped my chin.
Darth Hazmat Jr. offered his handkerchief. "Do with it as you like." His red eyes glowed from behind the mask.
I took another swig. "You'll have to tell me where you got that tie."
"In good time, sir." He nodded.
Sir? Perfect manners always aroused my suspicion. I wasn't particularly interested in hearing about his master; we all served one, one way or another. Right now mine was Glenlevit.
Suddenly a series of white and blue lights flashed intermittently. There was no sound; the alarm just cycled through several times before finally blinking off.
"What was that all about?"
"Nothing, sir," he replied. "Shall I show you to your room?"
I slammed down another mouthful. "Hell yeah!"
This just kept getting better and better.