Home > ColecoVision
ColecoVision & The Coleco ADAM Family Computer System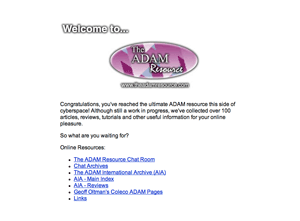 The ADAM Resource
5/23/17 Update!
After much self-reflection, I have decided to give Coleco ADAM development another shot and will be reviving my incomplete Dragon Master game. I will also be publishing a bunch of resources on ColecoVision programming with an eye of completely revamping this website. Stay tuned!
About
Eons ago I had a website called The Adam Resource which was dedicated to preserving historical documents (i.e., old articles) pertaining to ColecoVision and the ADAM computer. Eventually I got involved in other things and pulled the plug on my humble site. Or so I thought...
Recently I tried to locate my archive and could not find it for the life of me. Perhaps I could locate some of content in the Way Back Machine? And so another fruitless effort ensued...
When doing a random search for Solomon Swift (a talented spaghetti coder whose name will forever live in infamy), I stumbled across a link to my old site. "That's pretty funny," I thought. "That must be some really old content stuck in Google's cache." In a bizarre twist, the link took me to a live site with the majority of the former content intact. WTF?!
While it was nice to revisit the old content, it felt like I had entered The Twilight Zone. After the hundreds of hours that I poured into the website (with little help), I was not pleased that someone ripped out the underlying code and slapped it up without even so much as telling me. Fortunately, the domain had been registered by Adamcon.org in an effort to preserve the work I had done. At least the right people had the content.
Currently I'm in the process of developing a new Coleco ADAM website focused on software development. This page is a placeholder for this venture, and once it grows large enough, I will break it off for good.
In the meanwhile, take a look at what became of The ADAM Resource.
ColecoVision Programming
There are plenty of good resources out there for ColecoVision programming; unfortunately, they are scattered all over the Internet. For instance, I was recently trying to find out information about the ASCII fonts that are embedded in the ColecoVision OS7 BIOS and SmartWRITER ROMs. I had a heck of a time tracking them down, and eventually had to scan through one of the ROMs to find one.
Why should I care about such a thing? Because I recently came across old code for a dialogue box routine, and wanted to get it working again. To do that, I needed full knowledge of where the font patterns reside, and well, it's been a good 25 years...
The fonts embedded in the ColecoVision BIOS can be found at location 5539 (00x15A3h). This actually points to the pattern for an empty space (ASCII character 32). The following is a full breakdown of patterns 5-125, which also includes the bit image data for the classic ColecoVision title. I've also included the full character set extracted from the SmartWRITER ROM, which starts at location 772 (00x0304h). Also of note: This code is an easy cut and paste into your assembler programs with little or no modifications required.
Also, here's a bold version of the OS7 character set. It still needs to be tweaked, but most of the work is done for you.
Technical Manuals
(More to come soon...)
Micro Innovations
Micro Innovations based out of Reston, VA specialized in making hardware for the Coleco ADAM. One of its first products was the Powermate hard drive, available in 10 and 20 MB configurations. A working prototype was unveiled at a meeting of AWAUG, the Washington DC area ADAM's User's Group.
Although another hard drive existed at the time (courtesy of Big John Lingrel of Orphanware), installation was a nightmare. Users literally had to cut a hole in their computer in order to access the necessary ports. For many, this was an unacceptable solution, and Micro Innovations came to the rescue!
Mark Gordon designed a new hard drive independently of Big John that required use of one of the expansion card slots and no butchering of the main console. It could also be expanded to have additional 3 1/2" and 5 1/4" disk drives. The interface card even had a serial port built into it to connect to a variety of other devices. In short, the Powermate was an awesome and the original sold well.
Eventually Micro Innovations attempted to built a lower cost version of the Powermate to make it available to a wider audience. One of the investments that didn't pan out was a purchase of lot of used hard drives that contained few working units. Having lost significant money developing the next generation Powermate, Mr. Gordon turned to one last project, an ADAMNet hard drive that was eventually shelved.
Although Micro Innovations only operated for a few years, its contribution to the ADAM community has not gone unnoticed. Coleco ADAM hard drives, especially Micro Innovations hard drives, are considered collectors items on venues such as eBay.
And for those of you who don't know, it gives me great pride to say that Mark Gordon of Micro Innovations is my father.
Powermate
Digital Express / Phoenix 2000 / Solomon Swift
GoDOS
The GoDOS project was Solomon Swift's magnum opus, an ambitious project that ultimately doomed the company. While Swift did ultimately release a product in some form, there was little one could do with it (think scope creep). In the end, GoDOS / GoBASIC did not work as advertised (those who got their copies), and many demanded a refund which had already been spent.
The story does not end there, however. Many ADAM users who had purchased the prerelease banded together and succeeded in sending Solomon Swift to jail. It was sad end to an otherwise industrious time in the ADAM community.
Since GoDOS never quite materialized as envisioned, little documentation exists. Here are the articles I've found:
Newsletters
Expandable Computer News (ECN) (March '84 - February '88)
Nibbles & Bits
SmartBASIC Programs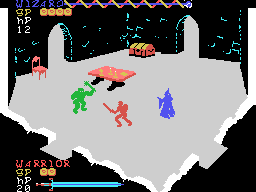 ColecoVision / Coleco ADAM Emulators
ROMs
The following ROMs are either public domain or unreleased prototypes. To play these ROMs, you will need to download one of the emulators above.
Public Domain
Unreleased Prototypes
Misc
Overlays
ColecoVision Brochure
Links