Chapter 27: Vigil
February 14 at 7:00 PM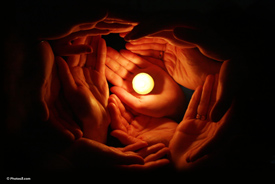 Photo courtesy of Photos8.com
"It is time," Vangley's voice spiraled down the limestone stairway.
"Please, my lord, if you could spare another hour. There is still plenty of time to pursue her." Lawson barely kept pace.
"I am afraid no amount of time is truly adequate. I have faith in your uncanny processes, for this I am certain you will not fail us. But any further delay would be ruinous. More have perished since you've been here. While brothers and sisters fall, Vissorouy stands by with a steady hand. But it is time for blood: hers, theirs, it does not matter. As long as Enura knows she cannot walk about uncontested.
"Tonight I will shepherd the flock. It is the only true way for you to lend us your objectivity. Inform me of my shortcomings afterwards, and in confidence. On receipt of your assessment, the reigns will be handed to you."
"Lord Vangley, I believe I am close to discovery, if you would just give me the chance." Lawson hurried up the final stairs. "There is no reason to rush."
The elder turned. "Why pour over ancient banter when you have an entire town to interrogate?"
"Did that advantage serve you well? The people of this town are terrified; fear prompts stories to rethread themselves."
"Then little has changed between then and now. Be thankful you can walk the streets of Vissorouy with a steady heart, unburdened by the carnage of yesterday." Vangley pushed open the stone door.
The three followed the mahogany table to the end of the room, and briefly entered the kitchen. Olivia hid the ruddy knife behind her back as Lawson glanced by; careful to obscure the creature she was carving.
"Armed with a legion of vampires, yet you fret over faded ink."
The men stepped into the hallway.
A servant with a lace shirt and crimson cravat handed the patriarch an ornate silver cane. Candlelight flickered off the hilt as the old man took it in his hand. "This is a vigil, not an engagement." He took a moment to admire the polished finish, and the vicious struggle carved into the handle. "Though if she chooses to make it a quarrel, none will object."
The servant opened the door, and bowed.
Although the sun tainted the dim sky, it did little to dissuade the nocturnal host. Vangley pressed through the doorway and into the courtyard, stronger now in the company of night.
A light breeze tickled the hairs on Lawson's neck as he studied the vacant courtyard. Three bronze statues dancing atop the fountain continued to catch his eye, as if he expected them to begin twirling on their toes. In the few moments his eye wandered, dozens of pale faces emerged from the shadows, forming a tight circle around them.
"Gentleman." Lord Vangley raised his cane. "A new watch has begun."