Chapter 29: Blessed
February 16 at 11:30 PM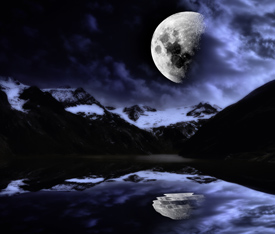 Photo courtesy of Abdulaziz Almansour
The disciple's breath steamed over the hillside. "Yakim!" he called. He stabbed the powder with his sword, and continued up the slope.
Behind, the carriage ambled forward. The haggard behemoths struggled to churn its wheels through the mud and ice, while the faceless coachman listened intently to the forest.
Clarence reached down, and grabbed a handful of snow. He rubbed it over his face and cheeks, washing the drowsiness from him. "Yakim," he spoke softly, unaware of the watchful eye peeking out from the patch he claimed. He took the last of the snow in his mouth, and swallowed.
"My lord." He stabbed the cane in the snow, and dropped to one knee. "I lay myself before you. I did what you asked, but still she eludes me. Help me bring her to you, swiftly." He genuflected and folded his hands.
"More than strength, lend me perspective, so I may divert the tide back to the sea. Do not let me leave without her; she is a danger to herself, and all who wield her."
As Clarence spoke, blood tainted the snow beside him. Although Yakim was unscathed, she bled nonetheless.
"In foolish times, I would have crushed her outright. Blessed her first," he chuckled, "and crushed her. I have entertained this fruitless errand far too long: all cannot be saved, nor are they meant to. I was at odds with this for quite some time, surely all creations deserve equal salvage; but one cannot force a fish to air, nor dog to two legs. Does my selection make others less worthy? At first I did not think so, but now I wonder.
"The world is awash in a crimson downpour; only so much water can be turned into wine. It is your law over such creations, or at least how I've come to understand it. Many must fail, so that few succeed, laying themselves down so that we may aspire to your throne. Perhaps your vision is evolving as we are.
"Are vampires part of this evolution? I keep asking myself that. Are they your new vision, or gatekeepers hastening failure's end? Perhaps a third explanation is in order: perhaps we are both fighting for the right to serve you. Worship is no longer adequate; we must claim humanity's right to exist, or see it extinguished. Angels may have failed you, but I will not. Show her to me, so that I may strike her down, and seek another path."
Clarence genuflected once more as the horses galloped up to him and yielded. His boot crunched over the patch of blood, and stopped at the carriage wheel. "Are we clear of the ice?"
The coachman nodded.
"She is not far." He stepped into the coach, and pulled the door shut.
As the carriage rolled over the hill, and disappeared from sight, Yakim shed the blanket from her.