Chapter 47: Salander
March 2 at 6:00 PM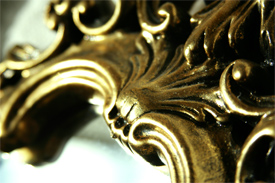 Photo courtesy of Frances Magee
The hunter ripped open the door. "Why does Vissorouy not have a firehouse?" he exclaimed.
Two men sitting on either side of a desk stared at the intruder.
"Would you mind if we picked this up later?" Salander Roach said calmly, closing the file before him.
The client nodded, and exited the room.
"What is this all about?" Roach primped his brown curls. "Would it kill you to spare a little courtesy?"
"There is no time for courtesy." Lawson stepped forward.
"Then make time." Salander shook his head. "How may I be of service?"
"The firehouse."
"Oh yes, the firehouse. There is none because we employ our own private brigade. Vissorouy tried staffing its own with volunteers, but it failed miserably," he chuckled.
"Or perhaps it was coaxed to failure," Lawson quipped. "The markings on the buildings, are they used to denote which are insured?"
"Yes?" Salander crossed his arms.
"How antiquated." Lawson marveled at the mirror next to him, its leafy trim brushed with a gold polish. "So you would let a residence burn to the ground if its owner did not pay insurance?"
"Insurance can be negotiated, even if a building is aflame."
"For triple the price, no doubt."
The wiry man squirmed in his chair. "Mr. Parker, is it? What exactly do you want from me? These are the policies in place; it is not as if we prevent residents from accessing water. Pumps exist throughout the city."
"Well water is not appropriate for a blaze, nor can it be extracted in sufficient quantity," Lawson replied. "A lady a block over suggested that I come here, claiming you the authority on Vissorouy's fire procedures, but I did not realize I would be talking to an insurance salesman."
"All professions have their place, Mr. Parker. What is it you do? Oh yes, vampire hunting. Of notable utility here."
"Am I not being clear? This town is not equipped to handle a fire!" Lawson's voice darkened.
"Nor would it make good business sense if it were." Roach considered his nails.
The hunter leaned over the desk. "Vissorouy is being fireproofed as we speak."
"What?" Salander looked up. "On whose authority?"
"Lord Vangley's. His son Laurent is coordinating the effort."
Salander cowered in his chair.
"I am taking charge of your men and equipment for the next few days. There is a real chance a fire could end up in Vissorouy's streets, among other things. Afterwards, they will be returned to you, and you may do as you please."
"Take what you want, but you'll never gain the confidence of my men. They are only loyal to me." The two locked eyes.
"Let's see how they feel after the patriarch visits you this evening." Lawson turned.
"If there is no business for me here, I will simply leave, and take my men with me," Salander bellowed. "Vissorouy can stamp out its own flames."
"Then your work here is done. I will send over Lord Vangley's servants to help collect your things. Good day, Mr. Roach." Lawson walked away.
"This is not the end of it!" Salander stood as the hunter slammed the door behind him.