Prologue: The Eye of the Future
October 30 at 2:00 PM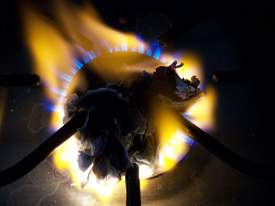 Photo by Teodoro S. Gruhl
A storm in the distance beckons me.
The wind stirs, washing the ashes from my palm. An identity, a faux life, smolders through my fingers. She is here, on this islet. It's only a matter of time before the red river rises. And rages.
The passport burns down to a charred husk. The driver's license is nothing more than a pool of plastic and ink. I throw it in, shedding the mask.
I can feel his eye upon me, the eye of the beast. But something is different this time; something has changed. His aura is weak, like a dog licking its wounds. As he scans inside of me, I realize it's not him at all.
But something colder, more procedural.
An abomination of science.
Built with malice and contempt.
I catch a glimpse of her in the reflection, of her cybernetic eye. Not much left of her is human. A sacrifice to the gods of science, like so many others before her. She scans over me one last time before cowering into the shadows.
I am meant to die this evening.
That much is certain.
But I will not abandon her.
Or surrender her to the void.
As darkness looms over me, I draw my sword, and step onto the world stage.