Chapter 7: Troublemaker
July 20 at 12:00 PM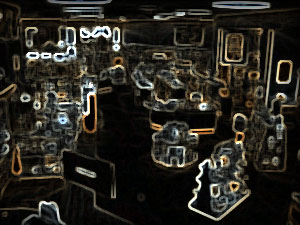 Based on a photo by montereypubliclibrary (Flickr.com)
The blond behemoth tossed me through the full-length window and stormed inside. I'd already shot him twice but he was too jacked up on heroine to notice. I would have loved to ask what happened to his clothes, but I was too busy spitting out teeth and glass. At least he wasn't armed, that much I knew for sure.
After talking to Scourge the night before, I felt the sudden urge to check out the local library, even though it was a good twenty minutes out of the way. Next thing I knew I was a punching bag for Jean Claude Van Chippendale. As I lay there counting ceiling tiles I wondered if I'd landed in the middle of some crazy episode of Jerry Springer.
The reject from muscle beach stomped over, striking me again and again and then hurling me through the Arts and Recreation section. After letting him kick the crap out of me for several minutes, I finally wizened up and slipped in a well-placed kick to the groin. He did not even flinch. Things were about to get a whole lot messier.
He tossed me over the information desk. Jumped on top. And howled.
"Leave my poor customers alone!" An old lady hobbled forward and tossed a book.
The lunatic gawked, glassy-eyed and confused. As he leapt off the counter, I tagged him in the back of the legs. He wallowed on the floor, baffled why his legs no longer worked. With the barrel of my gun still smoking I jumped over the counter. "You're the librarian, right?"
"Yes." She adjusted her bifocals.
"Don't you think that's a poor use of tax payer money? I mean, you could have damaged the book."
"Guess I never really thought about it like that." She scratched her head.
"Just messing with you. Now be a sweetheart and fetch me a book on Indonesia. And don't worry about this clown. That's why they invented guys like me."
The savage reached forward and bit into my calf. I tried shaking him off, but it was no use. He was permanently attached to my leg. I pointed the gun and fired, blasting through the side of his skull. Still he would not let go. "Damn it all," I grumbled, reaching around and snapping his neck. Finally his body slumped over, the fever subsiding.
The ancient bookworm stared back at me.
"Come on lady, I don't have all day." I wiped my hands on my coat.
"Here." A nearby patron handed the librarian a book.
"Is this what you're looking for?" She offered it to me.
I took note of the title, The Eye of Indonesia. "Hey, thanks."
I glanced over the naked corpse. Who the hell was this guy and why did he pounce on me the moment I got out of my car? A bramble of thorns was tattooed to his biceps and his lower back featured a series of graduated lines, similar to a bar code. And then I stumbled across some markings I recognized. "Oh shit," I groaned. I couldn't believe it. I actually knew the guy. I tossed him over my shoulder and headed for the door. "Have a nice day."
"Mister, you can't take that without a valid library card." The librarian pointed.
"What? Are you kidding me?" I set the book on the counter and fumbled for my wallet. What the hell was I doing? I was just as crazy as she was. "I don't have a library card."
"Then you can't have the book."
"What if I bought it straight up instead?" I slipped her a hundred dollar bill.
"Sorry, but we don't accept cash at this location," said the old maid.
"Jesus, lady," I switched the corpse to my other shoulder.
A family of three stepped into the lobby, their little girl of five hopping forward like a bunny. They took one look at the gun in my hand and bare ass on my shoulder and promptly exited.
"Tell you what, I'm taking the book and you're taking the hundred." I scooped up the book and exited.
"Troublemaker!" The old lady tossed another book, bouncing off the dead man's buttocks.
Abuse to a corpse. I loved it.