Home > Literary Dynamite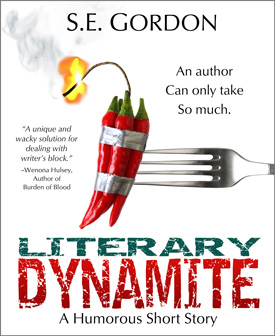 Literary Dynamite
A Humorous Short Story
Note: Literary Dynamite was originally published on December 22, 2010. Since then, the story has been completely overhauled and extended. It is now available as an e-book and includes additional bonus material and sneak previews of The Key of Neverhence and Vampire Hunters: Prelude.
Description
An unappreciated author. An ugly bunny. Dynamite.
Need I say more?
Get ready for a wild and amusing adventure, which author Wenona Hulsey calls, "A unique and wacky solution for dealing with writer's block."
Excerpt
Megan Ita stared at the keyboard, wondering if her story had just disappeared in the cracks between the keys. It was a feeling that she knew all too well: the muscles in her throat contracting and making it difficult to breathe, the wheels of her imagination slowing to a crawl. "Must break through!" She banged her head on the keyboard. "It's just one sentence. I can handle one stupid sentence, can't I?" she sniffled, and then cried.
"What's wrong with me? Haven't I done this a thousand times before?" Megan polished off a warm can of Red Bull and wiped the tears from her eyes, hoping to lift the imaginary burden. She shrugged it off, sat up straight in her ragged chair, and cut out the offending line. After reading the narrative again, she slipped it back in and grumbled. "I will defeat you!" she vowed.
After exhausting her arsenal of profanities, Megan took a break, certain that she would outfox the wily sentence. She turned on the oven, and baked herself a batch of chocolate chip cookies, a ritual that surfaced every time she pondered a difficult bit of text. "Not thinking about you right now," she tried to convince herself, but indeed she could not. The pitiful prose hung over her like a cloud, blinding her from the rest of the manuscript. All she needed to do was get her hero out of the tent. "This is ridiculous." She stripped off her bifocals, and rubbed her throbbing head.
And it happened far too often...
Reviews
"Writers! Just read this. Brilliant. 'nuff said." --Gary Weston
"I bought this story today and whipped through it. It's a great fun short story! But what I loved even more was the bonus content. Such inspiring words!" --Bug Dog Books
Product Information
Categories: Writing, Humor, Short Stories
Language: English
Date Published: November 12, 2011
Word Count: 9,256
ISBN-10: 0983648913
ISBN-13: 978-0-9836489-1-8
Keywords: writing, writer, author, crazy author, humor, dark humor, comedy, writer's block, fun, funny, publishing, self publishing, indie, indie publishing
Purchasing Options
This book is available in the following formats:
Note: You can also read this book for FREE with Kindle Unlimited!