Chapter 1: The Call
January 29 at 10:00 AM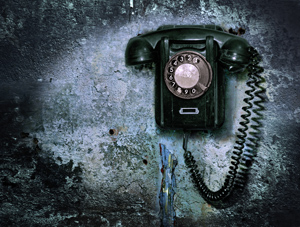 Photo courtesy of DepositPhotos.com
Tyler Thorpe was not his real name, but that still did not stop the stranger from asking for it.
"Good evening, Sara. Is Tyler there?"
"Sure. May I ask who's calling?"
"Tell him it's David."
"David?" She could not place the voice.
"My apologies, Sara. It's been awhile since we last spoke. It's David Bridgley."
Sara Harp paused, certain she had never heard the name before. Still, there was something familiar about his soothing tone.
"How did surgery go? You had us all worried there. Frankly I'm surprised they let you out so soon."
"Fine." A chill ran down her spine. "Just…fine…"
"I'm relieved to hear that." Sara could feel his smile through the phone. "I remember the first time I caught a glimpse of my own mortality. I wasn't nearly as strong as you."
Sara's hands trembled. Obviously he was not one of the doctors, or he would have known that the knife still awaited. "Tyler?" she called.
"Listen, Sara. It sounds like I've caught you at an awkward moment. Why don't you just have Tyler call me back? He has my number."
"No, wait," Sara uttered, but it was too late.
"Goodbye, Sara," his voice echoed one last time before the line went dead.